The Ultrasonic Palette is a device that helps remove dead cells from the skin surface using  a mechanical vibration system of the spatula applied to direct contact with the skin, this vibration originates due to the emission of a type of alternating current of high frequency greater than 20,000HZ that is imperceptible to the human ear. 
The Ultrasonic Palette has two angles that allow you to have two different forms of treatment: 
The open-angle when in contact with the skin makes the particles or semi-detached cells jump and detach, allowing a more controlled and less aggressive exfoliating action, allowing the renewal of the cellular tissue. By eliminating the superficial layers, it favors the penetration of active principles as well as the expulsion of toxins, improving the quality of the skin. 
Flat paddle The flat part of the paddle in contact with the skin will produce a micropercution that is similar to a micro-massage that will allow the absorption of an active principle that is applied on the surface according to the needs of the patient.
Benefits: 
Generates a stimulating massage generating a more relaxed appearance.

Improves skin texture. 

Lowers the corneocyte barrier. 

Deep skin cleansing. 

Depigmentation effect. 

Progressive improvement of acne sequelae thanks to the improvement of skin relief. 

It favors the reduction of enlarged pores. 

Slight wrinkles reduction. 

Painless, easy to control, and less aggressive than the acids used in chemical peeling.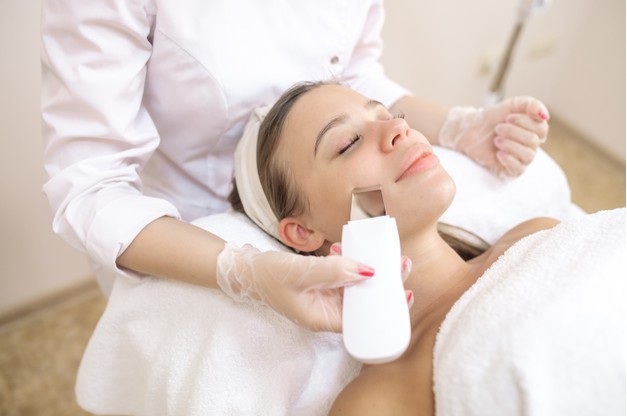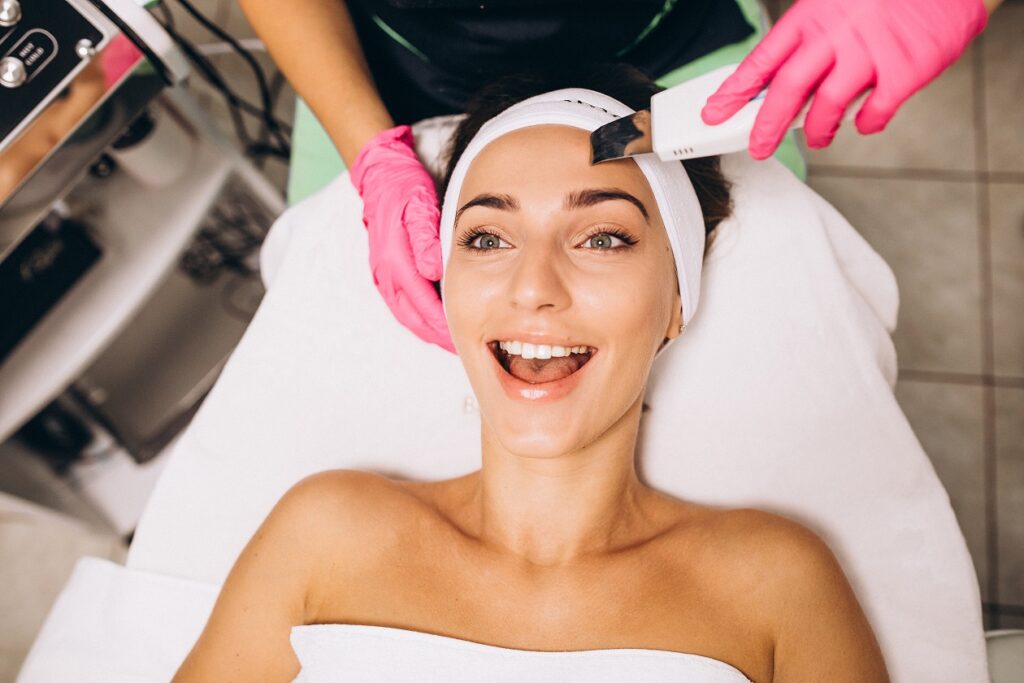 Indications: 
Deep skin cleansing. 

Depigmenting Treatments. 

Exfoliation. 

Aftermath of acne. 

Enlarged pores. 

Slight wrinkles.
Procedure: 
It begins by cleaning the face and removing the remains of makeup and dirt. 

Exfoliating mask.

Gently press the ultrasonic pallete head over the skin to exfoliate the outer layers, loosen dead cells and clean the pores. 

Application of active principles being able to use the palette To spread the product and massage it on the skin, the square part of the head is used since the waves favor the absorption of the active ingredients.

Treatment time: between an hour and an hour and a half, depending on the condition of the skin. 

It does not cause discomfort or inflammation or redness. 

Results are almost immediate and when leaving you will be able to notice the most renewed, youthful, and smooth skin, without impurities or imperfections. 

The session ends with a moisturizer and sunscreen
 Additional  Recommendations: 
In the case of acne, the improvement is noticeable from the first session, but about six sessions may be necessary. 

In skin blemishes, it is usually necessary between 6 to 12 sessions of depigmenting peelings and the results begin to be appreciated after the third or fourth session. 
Contraindications: 
Pregnancy. 

Dermatitis. 

Severe acne.

Infections and open lesions on the skin. 

Skins with poor healing. 

Hypersensitive Skins.