Diamond-tipped microdermabrasion is a mechanical but very delicate treatment that, using  exfoliating tips and water, removes the superficial layers of the skin to perform a deep cleaning, eliminating superficial dead cells, fat, and accumulated blackheads. to revitalize it, improving  expression lines and acne sequelae.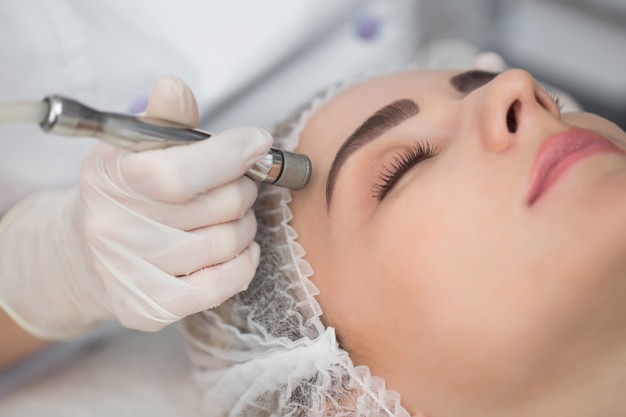 Benefits:
Decrease in open comedones (blackheads).

Decrease in oiliness on the face.

Decreased pore size.

Improvement of skin aging.

Removal of dead cells from the surface.

It's a very friendly procedure, nothing invasive or aggressive.

Improves oxygenation of the skin.

 improvement of acne scars.

It favors and stimulates the renewal of skin cells.
Indications:
Photoaged  skin.

Pigmentation.

skin lines and wrinkles

Skin thickening (Hyperkeratosis).

Dry Skin.

Cysts and comedones

Acne sequelae.

Seborrheic skin.

Enlarged and/or open pores.
Procedure:
After cleaning the face  and  neck.

The equipment uses a suction system that allows, in addition to exfoliation with the circular heads covered with diamond particles, the aspiration of cellular debris.

The exfoliating tips can be exchanged according to the area being treated. They act in two ways:

       Abrasion: removes dead cells and impurities from the skin.

       Vacuum (Vacuum or negative pressure) that with movement decompresses the                    tissues and stimulates circulation.

At the end of the session, we put on sunscreen.

The sessions last between half and an hour.

After each session, there are no restrictions.

The sessions do not usually produce irritation or redness of the skin, and if it occurs is mild, it disappears within a few hours.
Additional Recommendations:
It is convenient to hydrate the skin  post-treatment to keep it  moisturized.

Use sunscreen.

Avoid direct sun exposure during the following days.

The changes are evident from the first session, but 6 sessions are recommended for optimal results. 
Contraindications:
History or active herpes.

Regular consumption of anti-inflammatories.

Infected skins

Warts.

Telangiectasias (red veins).

Rosacea.