The use of Russian waves was born  for rehabilitation of astronaut muscles  , by its developer Dr. Kosh.  It is a body technique that uses equipment with a system of low-voltage electrodes on the different muscle groups (buttocks, legs, abdomen that produce electrostimulation to the neuromuscular nerve terminals, causing the muscle mass to contract rhythmically and, in this way, provide firmness and development, as well as penetrating deeply into both muscle tissue and adiposities and the lymphatic system.
Its operation is very simple, through the electrodes that transmit the waves and are applied on  the area to be toned. These are secured with elastic bands while the patient is lying on (the bed) 
The action of the Russian waves affects the body's metabolism, therefore, it not only firms the muscles but also contributes to energy consumption and favors the elimination of toxins and localized fat,so  into a better silhouette.
Also, acting on the lymph, reduces the orange peel effect that is produced by the accumulation of fluid in the tissues, progressively helping to improve the appearance of cellulite.
As long as its application is done on healthy skin, the Russian waves are recommended at any age and in any physical structure.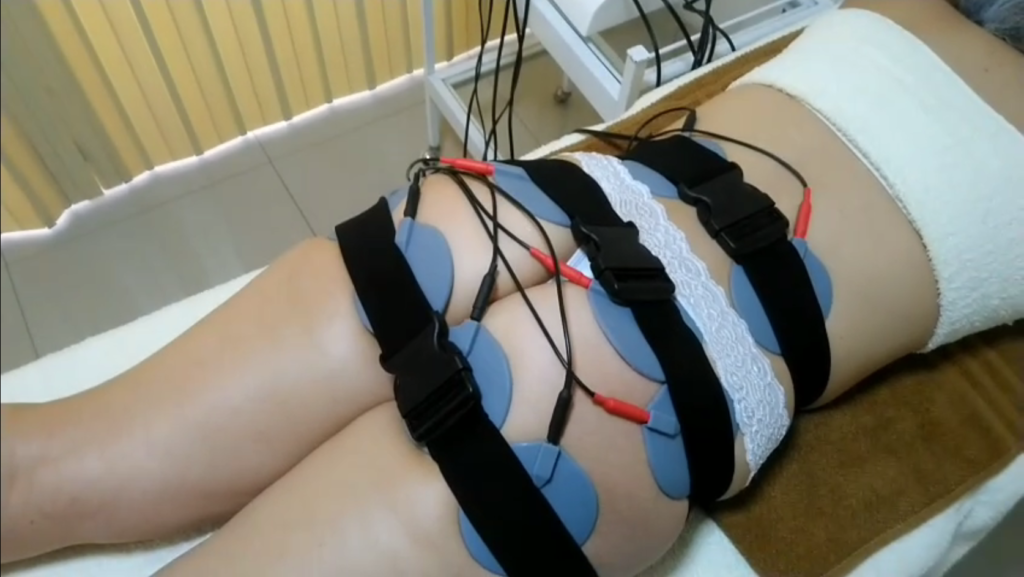 Benefits:
Muscle toning effect reducing the degree of hypotonia or flaccidity.

Trophic effect (by improving the blood and lymphatic circulation of the treated areas, it facilitates the nutrition of the cells).

Activates deep venous and lymphatic circulation. That is why it is useful to treat edema of vascular origin and circulatory conditions.

As a metabolism activator, it promotes nutritional replacement.

Increase energy expenditure.

It favors the elimination of localized fat.

Reduces the appearance of orange peel.
Indications:
Muscle flaccidity.

Associated with Ultra Cavitation.

Associated with Radiofrequency.

Mild system disorders. venous circulatory.

Lymphatic congestion.
Consider:
The number of sessions is determined by the diagnosis made by the specialist. Being able to be about ten sessions to begin, distributed in three per week, of half an hour each one .

After completing these first ten, the specialist analyzes whether another five or ten more are necessary.
Contraindications:
Pregnancy and breastfeeding. 

Metal prostheses, pacemakers, and other devices. 

Poorly controlled diabetes. 

Cancer. 

People who suffer from impaired coagulation.